Matamoras Airport Park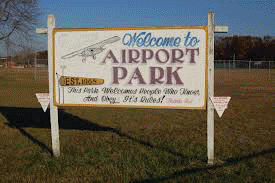 Airport Park is as close as a picnic can be to the Tri-State Point of Pennsylvania, New York, and New Jersey; the monument marking the actual Tri-State point is across half of the Delaware River, which is accessible through New York.
Although it may be hard to see when you're at the park, one look at this satellite image will demonstrate where the park got its name. Our event is held in the larger pavilion area at the South end of the park.
Check out our video with drone footage of Airport Park!
The park is owned by Matamoras Borough and maintained and overseen by their Recreation Department, and within its fenced-in areas boasts playing fields, pavilions, playground equipment, a small waterpark, a rink, and a veteran's memorial. It also has a separate dog park, the only location within the fenced-in areas where dogs are allowed; this rule is strictly enforced.
Airport Park has been the site of Tri-State Treasures every year since the event made its debut in June 2007.
You'll find park rules and other information available here.
Dog Park information is available here.